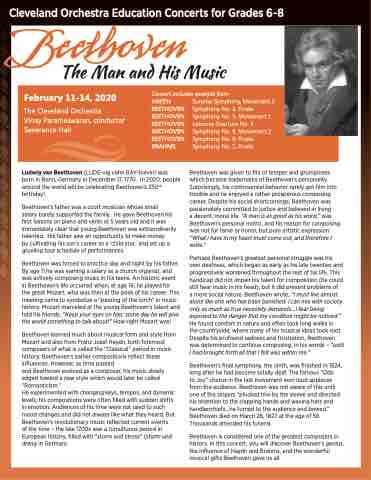 Cleveland Orchestra Education Concerts for Grades 6-8
 Beethoven
The Man and His Music
   February 11-14, 2020
The Cleveland Orchestra
Vinay Parameswaran, conductor Severance Hall
Concert includes excerpts from
HAYDN BEETHOVEN BEETHOVEN BEETHOVEN BEETHOVEN BEETHOVEN BRAHMS
Surprise Symphony, Movement 2 Symphony No. 2, Finale Symphony No. 5, Movement 1 Leonore Overture No. 3 Symphony No. 8, Movement 2 Symphony No. 9, Finale Symphony No. 1, Finale
 Ludwig van Beethoven (LUDE-vig vahn BAY-toevin) was born in Bonn, Germany in December 17, 1770. In 2020, people around the world will be celebrating Beethoven's 250th birthday!
Beethoven's father was a court musician whose small
salary barely supported the family. He gave Beethoven his first lessons on piano and violin at 5 years old and it was immediately clear that young Beethoven was extraordinarily talented. His father saw an opportunity to make money
by cultivating his son's career as a 'child star,' and set up a grueling tour schedule of performances.
Beethoven was forced to practice day and night by his father. By age 11 he was earning a salary as a church organist, and was actively composing music in his teens. An historic event in Beethoven's life occurred when, at age 16, he played for the great Mozart, who was then at the peak of his career. This meeting came to symbolize a "passing of the torch" in music history. Mozart marveled at the young Beethoven's talent and told his friends, "Keep your eyes on him; some day he will give the world something to talk about!" How right Mozart was!
Beethoven learned much about musical form and style from Mozart and also from Franz Josef Haydn, both foremost composers of what is called the "Classical" period in music history. Beethoven's earlier compositions reflect these influences. However, as time passed
and Beethoven evolved as a composer, his music slowly edged toward a new style which would later be called "Romanticism."
He experimented with changing keys, tempos, and dynamic levels; his compositions were often filled with sudden shifts in emotion. Audiences of his time were not used to such mood changes and did not always like what they heard. But Beethoven's revolutionary music reflected current events
of the time – the late 1700s was a tumultuous period in European history, filled with "storm and stress" (sturm und drang in German).
Beethoven was given to fits of temper and grumpiness which became trademarks of Beethoven's personality. Surprisingly, his controversial behavior rarely got him into trouble and he enjoyed a rather prosperous composing career. Despite his social shortcomings, Beethoven was passionately committed to justice and believed in living
a decent, moral life. "A man is as good as his word," was Beethoven's personal motto, and his reason for composing was not for fame or honor, but pure artistic expression: "What I have in my heart must come out, and therefore I write."
Perhaps Beethoven's greatest personal struggle was his own deafness, which began as early as his late twenties and progressively worsened throughout the rest of his life. This handicap did not impair his talent for composition (he could still hear music in his head), but it did present problems of
a more social nature. Beethoven wrote, "I must live almost alone like one who has been banished. I can mix with society only as much as true necessity demands...I fear being exposed to the danger that my condition might be noticed." He found comfort in nature and often took long walks in
the countryside, where many of his musical ideas took root. Despite his profound sadness and frustration, Beethoven was determined to continue composing, in his words – "until I had brought forth all that I felt was within me."
Beethoven's final symphony, the ninth, was finished in 1824, long after he had become totally deaf. The famous "Ode
to Joy" chorus in the last movement won loud applause from the audience. Beethoven was not aware of this until one of the singers "plucked him by the sleeve and directed his attention to the clapping hands and waving hats and handkerchiefs...he turned to the audience and bowed." Beethoven died on March 26, 1827 at the age of 56. Thousands attended his funeral.
Beethoven is considered one of the greatest composers in history. In this concert, you will discover Beethoven's genius, the influence of Haydn and Brahms, and the wonderful musical gifts Beethoven gave us all.