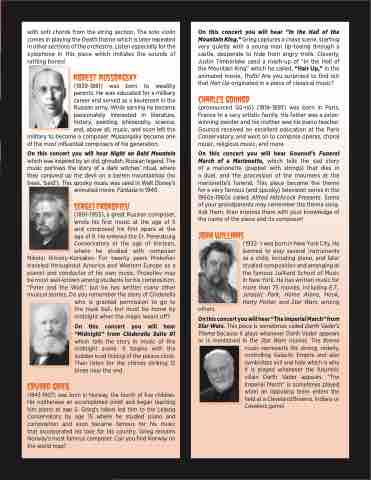 with soft chords from the string section. The solo violin comes in playing the Death theme which is later repeated in other sections of the orchestra. Listen especially for the xylophone in this piece which imitates the sounds of rattling bones!
MODEST MUSSORGSKY
(1839-1881) was born to wealthy parents. He was educated for a military career and served as a lieutenant in the Russian army. While serving he became passionately interested in literature, history, painting, philosophy, science, and, above all, music, and soon left the
military to become a composer. Mussorgsky became one of the most influential composers of his generation.
On this concert you will hear Night on Bald Mountain which was inspired by an old, ghoulish, Russian legend. The music portrays the story of a dark witches' ritual, where they conjured up the devil on a barren mountaintop (no trees, 'bald'). This spooky music was used in Walt Disney's
animated movie, Fantasia in 1940.
SERGEI PROKOFIEV
(1891-1953), a great Russian composer, wrote his first music at the age of 5 and composed his first opera at the age of 9. He entered the St. Petersburg Conservatory at the age of thirteen, where he studied with composer
Nikolai Rimsky-Korsakov. For twenty years Prokofiev traveled throughout America and Western Europe as a pianist and conductor of his own music. Prokofiev may be most well-known among students for his composition, "Peter and the Wolf," but he has written many other musical stories. Do you remember the story of Cinderella
who is granted permission to go to the royal ball, but must be home by midnight when the magic wears off?
On this concert you will hear "Midnight" from Cinderella Suite #1 which tells the story in music of this midnight scene. It begins with the sudden loud ticking of the palace clock. Then listen for the chimes striking 12 times near the end.
EDVARD GRIEG
(1843-1907) was born in Norway, the fourth of five children. His motherwas an accomplished pinist and began teaching him piano at age 5. Grieg's talent led him to the Leipzig Conservatory by age 15 where he studied piano and composition and soon became famous for his music that incorporated his love for his country. Grieg remains Norway's most famous composer. Can you find Norway on the world map?
     On this concert you will hear "In the Hall of the Mountain King," Grieg captures a chase scene, starting very quietly with a young man tip-toeing through a castle, desperate to hide from angry trolls. Cleverly, Justin Timberlake used a mash-up of "In the Hall of the Mountain King" which he called, "Hair Up," in the animated movie, Trolls! Are you surprised to find out that Hair Up originated in a piece of classical music?
CHARLES GOUNOD
(pronounced Gū-nō) (1818-1893) was born in Paris, France to a very artistic family. His father was a prize- winning painter and his mother was his piano teacher. Gounod received an excellent education at the Paris Conservatory, and went on to compose operas, choral music, religious music, and more.
On this concert you will hear Gounod's Funeral March of a Marionette, which tells the sad story of a marionette (puppet with strings) that dies in a duel, and the procession of the mourners at the marionette's funeral. This piece became the theme for a very famous (and spooky) television series in the 1950s-1960s called Alfred Hitchcock Presents. Some of your grandparents may remember the theme song. Ask them, then impress them with your knowledge of the name of the piece and its composer!
JOHN WILLIAMS(1932- ) was born in New York City. He learned to play several instruments as a child, including piano, and later studied composition and arranging at the famous Juilliard School of Music in New York. He has written music for more than 75 movies, including E.T., Jurassic Park, Home Alone, Hook, Harry Potter, and Star Wars, among
others.
On this concert you will hear "The Imperial March" from
Star Wars. This piece is sometimes called Darth Vader's Theme because it plays whenever Darth Vader appears or is mentioned in the Star Wars movies. The theme
music represents the strong, orderly, controlling Galactic Empire and also symbolizes evil and hate which is why it is played whenever the futuristic villain Darth Vader appears. "The Imperial March" is sometimes played when an opposing team enters the field at a Cleveland Browns, Indians or Cavaliers game!