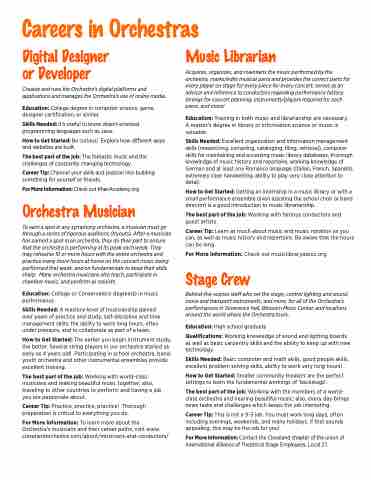 Careers in Orchestras
Digital Designer or Developer
Creates and runs the Orchestra's digital platforms and applications and manages the Orchestra's use of online media.
Education: College degree in computer science, game designer certification, or similar.
Skills Needed: It's useful to know object-oriented programming languages such as Java.
HowtoGetStarted:Becurious! Explorehowdifferentapps and websites are built.
The best part of the job: The fantastic music and the challenges of constantly changing technology.
Career Tip: Channel your skills and passion into building something for yourself or friends.
For More Information: Check out KhanAcademy.org Orchestra Musician
To earn a spot in any symphony orchestra, a musician must go through a series of rigorous auditions (tryouts). After a musician has earned a spot in an orchestra, they do their part to ensure that the orchestra is performing at its peak each week. They may rehearse 10 or more hours with the entire orchestra and practice many more hours at home on the concert music being performed that week, and on fundamentals to keep their skills sharp. Many orchestra musicians also teach, participate in chamber music, and perform as soloists.
Education: College or Conservatory degree(s) in music performance.
Skills Needed: A mastery-level of musicianship gained over years of practice and study; self-discipline and time management skills; the ability to work long hours, often under pressure, and to collaborate as part of a team.
How to Get Started: The earlier you begin instrument study, the better. Several string players in our orchestra started as early as 4 years old! Participating in school orchestra, band, youth orchestra and other instrumental ensembles provide excellent training.
The best part of the job: Working with world-class musicians and making beautiful music together; also, traveling to other countries to perform; and having a job you are passionate about.
Career Tip: Practice, practice, practice! Thorough preparation is critical to everything you do.
For More Information: To learn more about the Orchestra's musicians and their career paths, visit www. clevelandorchestra.com/about/musicians-and-conductors/
Music Librarian
Acquires, organizes, and maintains the music performed by the orchestra, marks/edits musical parts and provides the correct parts for every player on stage for every piece for every concert; serves as an advisor and reference to conductors regarding performance history, timings for concert planning, instruments/players required for each piece, and more!
Education: Training in both music and librarianship are necessary. A master's degree in library or information science or music is valuable.
Skills Needed: Excellent organization and information management skills (researching, compiling, cataloging, filing, retrieval), computer skills for maintaining and accessing music library databases, thorough knowledge of music history and repertoire, working knowledge of German and at least one Romance language (Italian, French, Spanish), extremely clear handwriting, ability to play very close attention to detail.
How to Get Started: Getting an internship in a music library or with a small performance ensemble (even assisting the school choir or band director) is a good introduction to music librarianship.
The best part of the job: Working with famous conductors and guest artists.
Career Tip: Learn as much about music and music notation as you can, as well as music history and repertoire. Be aware that the hours can be long.
For More Information: Check out musiclibraryassoc.org Stage Crew
Behind-the-scenes staff who set the stage, control lighting and sound, move and transport instruments, and more, for all of the Orchestra's performances in Severance Hall, Blossom Music Center, and locations around the world where the Orchestra tours.
Education: High school graduate
Qualifications: Working knowledge of sound and lighting boards as well as basic carpentry skills and the ability to keep up with new technology.
Skills Needed: Basic computer and math skills, good people skills, excellent problem solving skills, ability to work very long hours!
How to Get Started: Smaller community theaters are the perfect settings to learn the fundamental workings of 'backstage'.
The best part of the job: Working with the members of a world- class orchestra and hearing beautiful music; also, every day brings news tasks and challenges which keeps the job interesting.
Career Tip: This is not a 9-5 job. You must work long days, often including evenings, weekends, and many holidays. If that sounds appealing, this may be the job for you!
For More Information: Contact the Cleveland chapter of the union of International Alliance of Theatrical Stage Employees, Local 27.